Case Study | MetroDrain, Sheerness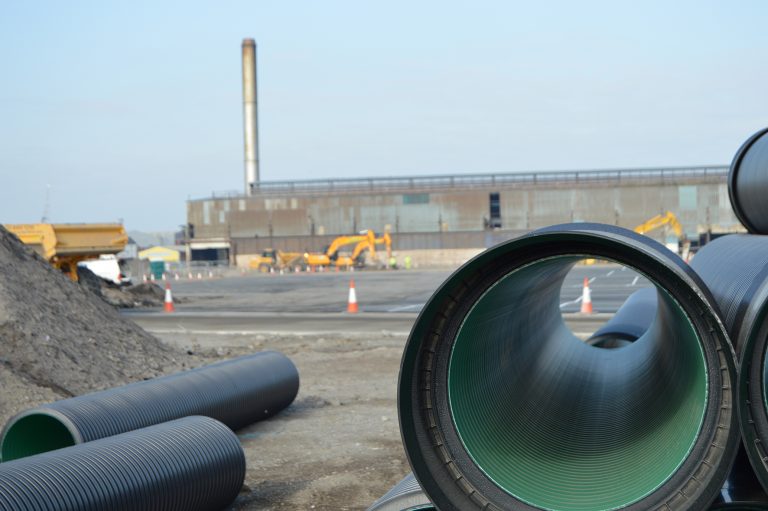 Rouden Pipetek recently supplied 8km of Twinwall Drainage to a site in Sheerness, Kent.
The twinwall drainage system was ordered and installed by a large Kent based construction company, who carried out demolition and civils work at the port in Sheerness. MetroDrain is suitable for the collection and disposal of surface and sub-surface storm water. The Naylor MetroDrain premium drainage system is suitable for non-adopted surface water drains subject to Building Regulations and Standards throughout the UK.
Benefits of MetroDrain:
Smooth bore for superior hydraulic flow; corrugated outer wall for additional strength
Lightweight product – easier transport, handling and installation
Recognised alternative to concrete and clay pipes
High strength and durability
Excellent resistance to differential settlement
Minimal jointing compared with traditional materials
Easily cut to required lengths
HDPE not PVC/PP
Enhanced profile – stronger pipe
Optimal environmental credentials
Improved abrasion resistance
Less brittle, less vulnerable to crack propagation
Ideal for cold weather applications
If your project requires twinwall drainage, please get in touch with our sales team for a free quote.
With extensive warehouse space across two branches in Sussex and Kent, Rouden Pipetek have the capacity to deliver large volumes of drainage and pipework supplies quickly and efficiently. To find out more about our Twinwall products, please get in touch! Find your nearest branch via our Contact us page.