New in stock: POLYSEWER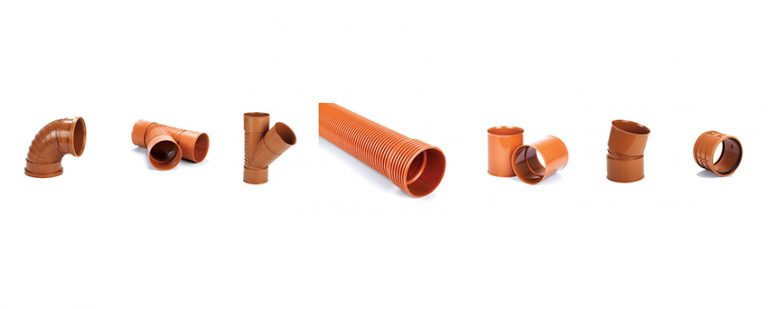 The Polysewer underground drainage system is a range of PVCu structured wall gravity sewer pipes and fittings available in diameters from 150-300mm.
The complete system includes a range of couplings, seals, bends, junctions and accessories. The system is manufactured in accordance to BS EN 13476-1 and WIS 4-35-01 v2, and has adequate resistance to the type and quantities of chemicals likely to be found in domestic sewerage.

Applications:
Polysewer provides robust, chemical and sewer gas resistant sewer
pipes for new and replacement gravity sewer systems.
Performance:
Polysewer underground drainage has a design life in excess of 100 years.
Benefits:
Fully compliant with BS EN 13476-1 and WIS 4-35-01 v2
BSI Kitemarked and BBA approved
Adoptable by water companies
Manufactured to stiffness classification 8
Lighter in weight for increased Health and Safety benefits
Durable, long life PVCu
Structured wall pipe for high ring stiffness and strength
Integral sockets for quicker installation and greater leak tightness
Strong, flexible pipe wall withstands ground movement
Chemical, impact and abrasion resistant
Resistant to sulphate attack and corrosion by sewer gas
Saddle connectors are available
Meets WRc Code of Practice for high pressure water jetting tolerance
NOW AVAILABLE TO ORDER
Call our sales team today for more information and pricing or use our contact form:
Horsham: 01403 275 276
Sittingbourne: 01795 843 866