Rouden sponsors Mark Bushell running London Marathon 2019!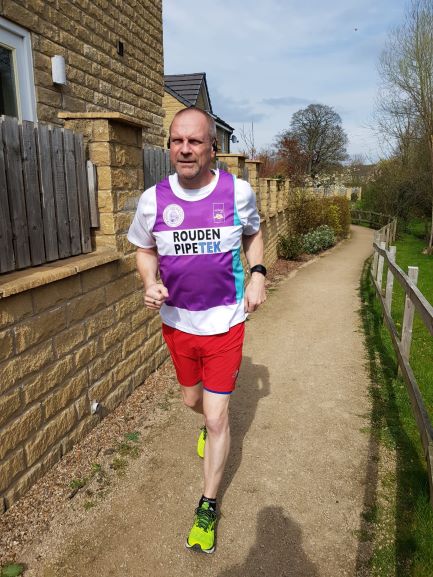 Rouden sponsors Mark Bushell running London Marathon 2019!
We are proud to be sponsoring Mark Bushell, Sales and Marketing Director at Brett Paving, who will be running the London Marathon on Sunday 28th April.
Mark will be running for the charity Asthma UK. In the UK, every 10 seconds someone has a potentially fatal asthma attack and Asthma UK work to stop asthma attacks, with their goal being to cure asthma completely.
With only 3 days until the big run, we caught up with Mark to find out more about himself and running the marathon!
How long have you been running for?
I started running in January 2017 after my wife, Anna, completed her very first Half Marathon in Manchester the previous October. She inspired me to put my trainers on and start pounding the tarmac. I didn't quite realise at this point where my running shoes would take me!
Together we completed the Huddersfield 10K which is a very hilly course.
My first race and I was hooked, despite the arduous hills. I immediately signed up for the Wakefield 10K and ran a PB (personal best), which is when I decided I might actually be quite good at this running business!
I completed my first Half Marathon in Leeds in and I was amazed at how good I felt afterwards. By this point I had a full marathon in my sights and that was when I ran and completed the Greater Manchester Marathon.
Why did you sign up to run the London Marathon?
Unfortunately, in between all of this my wife was struggling to breathe properly and was diagnosed with Asthma in May 2017. Finally, after almost 12 months the asthma was under control and she was able to breathe properly again, which is when she decided to apply for a charity place in the Virgin London Marathon 2019 for Asthma UK. Not wanting to miss out on such an opportunity, I applied too, and we were both delighted to have been chosen by the charity to run for them in the VLM19.
How have you been fitting in training around work and how have you kept yourself motivated?
Motivation has never been a problem, I just love running it's that simple. Fitting the training in sometimes proves to be a bit trickier, usually I run 2 shorter distances (3-5 miles) during the week with 6am being my preferred time but if that doesn't work then 8pm isn't bad either. I tend to save the longer run for a Sunday morning, anything from 10 miles to 20 miles depending on how close I am to the big day.
What difficulties have you faced leading up to the marathon and how have you overcome these?
Training has been a bit up down with various niggles in my back and achilleas – I slipped a disc 5 years ago and actually running has helped to strengthen my back not to mention the weight I've lost too!
My wife and I visited London in December 2018 and we went for a 7 mile run taking in some of the sights that we will see on the big day. It was really good to know that the next time we run that route we will be in our Asthma UK tops with thousands of crowds cheering us on, we know it is going to be something quite special.
I've been breaking a lot of my PB's and running some fast minutes per mile. I don't get the chance to train with my wife much as we have two young children, but we did complete a 17.7 mile training run together and as we live in Yorkshire most of it was uphill, not to mention the sleet, hail, rain and snow storms we had to endure. The journey back wasn't much better as although it was downhill it was into the stormy winds and so after that run together, we both felt the VLM might feel easier, despite having to run another 8.5 miles on top!
It's important to make sure your legs and body are fit and ready and not too tired for the big day. So tapering is good as it takes the pressure off and to be honest at this point, there's not much more we can do to be 'match-fit'.
How are you feeling about the big day?
Not long now until the big day, we've been busy planning our food schedule of carb loading, continuing with small runs so that our muscle memory stays strong and trying to not get too jittery about the day. Asthma UK are a brilliant charity to run for. Yes, you have to commit to raising a lot of money, but it's worth it and the support and encouragement you get from them is second to none. We're both looking forward to our 'Hero's Welcome' that they are laying on for us after we've finished. We've been promised food and a sports massage! No ice baths for me though!
What's the first thing you want to do once you cross the finish line?
Soak up the atmosphere when crossing the line, a nice cool pint then watch Anna finish!
You can track Mark and Anna's progress on the day by downloading the Virgin London Marathon App. Mark's number is 52230 and Anna's is 52229.
If you'd like to donate to Asthma UK and show Mark your support, please visit https://uk.virginmoneygiving.com/fundraiser-display/showROFundraiserPage?userUrl=MarkBushell2&pageUrl=1