The Benefits of Clay Drainage Pipes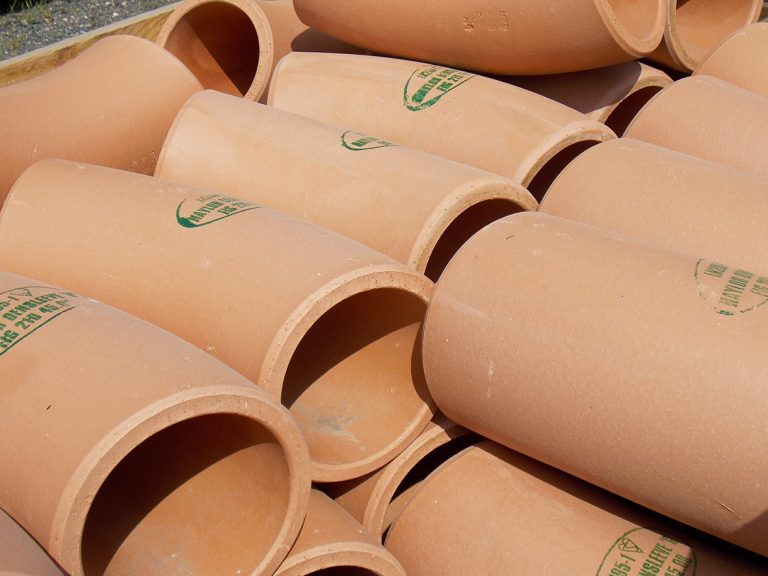 At Rouden Pipetek you can find a wide variety of Clay Drainage Pipes to purchase, as we are one of the largest Naylor Clay stockists in the South East. There are many different uses for Clay Drainage Pipes, and they also have great benefits.
Reduce the risk of damage
Clay pipes are inherently strong, so when it comes to laying them, there is a reduced risk of breakage or damage. Furthermore once the pipes are laid, they will be able to withstand some unexpected loads that might be imposed in further building work. With clay pipes you will have peace of mind that it is a strong and hardy material.
Reduce the risk of leaks
Clay pipes are impermeable, meaning that there is a reduced risk of the contents leaking. Clay is also a safe conduit for most chemicals due to its great resistance. This also makes it a great choice if you are working with industrial land which might contain chemicals in the soil.
More environmentally friendly than alternatives
The energy required in the production of clay drainage systems is usually less than that of systems made with alternative materials such as concrete, cast iron, and PVCu. When it comes to clay production, the energy used is less than in other materials.
Clay pipes are economical
Clay pipes have excellent longevity, and in the long run clay systems have great value for money. Clay pipelines usually have lower repair and maintenance costs over their lifetime.
There are also other savings to consider. The strength of the pipe means that granular material is not needed to surround it. Due to less bedding needed, there is less spoil to remove from the site.
Clay Drainage Pipes with Rouden
You can purchase clay drainage pipes from our 4-acre yard in Horsham, West Sussex, Petersfield in Hampshire or our depot in Maidstone, Kent. We supply a wide range, including Densleeve, in diameters DN100, 150, 225 and 300mm.
We are also able to deliver clay pipes to you with our fleet of vans. Our clay range is delivered in convenient packs with optional mechanical unloading equipment on the delivery vehicle.
Please Get in Touch with us to discuss your requirements.