A Simple Guide To Soakaway Crates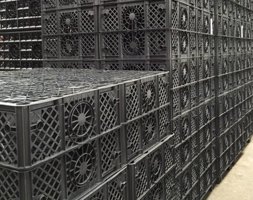 A Simple Guide To Soakaway Crates
Soakaway crates are a great invention that help to mitigate the risk of floods. Put simply holes dug into the ground and filled with crates to create a void where rainwater is stored so that it can seep slowly into the ground. The crates are designed to handle large amounts of roof and surface rainwater in both commercial and domestic properties. They also offer a permanent solution because they can last for years without a problem. The soakaways are especially important in regions that are prone to flooding and heavy rain. To help you learn about these structures here is a guide that will answer some of the most pressing questions about soakaway crates.
How do Attenuation Crates Work?
Attenuation crates also known as soakaway crates are used to control the level of surface water in areas that experience heavy rains or floods. After installing soakaway crates, they can be combined with waterproof pipework and geotextile to develop an attenuation system. This helps redirect the water collected to a storm drain or local body of water at an acceptable flow rate. Alternatively, you can also create a soakaway system with your soakaway crates. You simply do this by wrapping the crates using a permeable geotextile which will then allow the water to leak into the surrounding earth slowly. This does not cause any damage because the leak rate is suitable. The slow-release is also an effective solution for preventing stagnant surface water and floods.
How Many Soakaway Crates Do You Need?
After learning about the benefits of this drainage solution, one question that come up naturally, is how many soakaway crates do you need? There is no definite answer to this because it will depend on the size you want. The soakaway crates are modular which means you can stack them next to and on top of each other. A majority of available soakaway crates offer a void ratio of more than 90% to minimise waste of underground space. The type of soil on the ground and the expected flow rate are other factors to keep into consideration when thinking about the number of crates to use. You may need 3 crates on average per m3. But this will also vary depending on the model and crate you choose. You can consult drainage professionals like Rouden Pipetek Ltd. to guide you on the number of crates for your project.
How Deep Should A Soakaway Crate Be?
Another question that people like to ask is how deep should a soakaway crate be? It is recommended that the bedrock should not be within a metre at the base of the drainage pipe at any moment. This implies that the soakaway crate needs to be a minimum of 2 metres underground. This is because the maximum depth allowed for pipework is 700mm.
Where Are Soakaway Crates Used?
The attenuation crates can be used on any site that would benefit from water infiltration. This includes car parks, roads, shopping centres, sports stadiums, and pavements.
Get Yours Here
Here at Rouden Pipetek, we offer a wide variety of Soakaway Crates for different applications. Please Get in Touch with our sales team to discuss your requirements.
Our fleet of specialist delivery vehicles ensures your goods get to you safely. We offer a fast, next day delivery service, as required. Visit our Trade Counters in Horsham, West Sussex, Petersfield in Hampshire or Maidstone, Kent if you wish to collect in person.